Sign Language Meets Spoken Language0.65 Professional Study CEUsYear Around Event (2023)
Time

Year Around Event (2023)
Cost
$65.00
Cancellation & Refund Policy:
ASLIS requests payment to be made in advance. We do not process refunds after activity is approved and payment is complete.
If you are unable to complete this study for any reason, please contact CEUsponsor@aslis.com. 
CEUs
0.65 Professional Studies
ASLIS is an Approved RID CMP Sponsor for Continuing Education Activities. This Professional Studies program is offered for a total of 0.65 CEUs at Some Content Knowledge Level.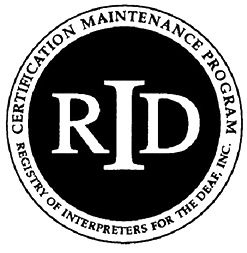 Event Details

This Independent Study provides an opportunity to mentor with a spoken language student intern! You will contact local colleges in your area that offer a spoken language program and inquire about mentoring a student for the semester. You'll have the student intern shadow you on interpreting assignments and then debrief with the student intern after each assignment (question topics are provided). The goal is 20 hours of mentoring (2 hours per week for 10 weeks), which includes both the interpreting and debriefing time. You will write a 2-page paper about the experience.

Educational Objectives:

1) Dissect the similarities and differences of the interpreting process for ASL and spoken language interpreting.

2) Develop teaming skills for situations when an ASL interpreter and a spoken language interpreter are working together.

3) Apply what I learned about spoken language interpreting to enhance my ASL interpreting.
Organizer