23mar6:00 pm8:00 pmInterpreting Social Status Through Pronoun Use0.2 PS6:00 pm - 8:00 pm CT Virtual Workshop - Zoom
Time

(Wednesday) 6:00 pm - 8:00 pm CT
Location

Virtual Workshop - Zoom
Presented in
ASL with English Interpretation
Cost
$20.00 for all registrants
All workshop registrations are final. No refunds.
CEUs
0.2 PS
ASLIS is an Approved RID CMP Sponsor for Continuing Education Activities. This PS is offered for a total of 0.2 CEUs at Some Content Knowledge Level.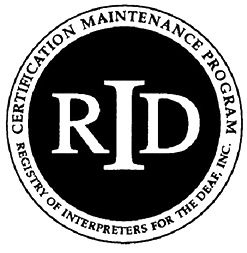 Event Details

When we interact we co-construct social status relationships, and these relationships are fluid, not fixed. Think of an interpreter who has much more experience than you, and whose work you admire and respect. You might assume that their status would be higher than yours during a teamed assignment. But what if the assignment was their first time in a setting that you frequent with consumers and content you knew well? That interpreter would likely defer to your expertise, reversing the social status relationship. There is no inherent value in being higher or lower status in a particular context, but we do act according to our perceptions of status.

Language is one way we construct and enact our status relationships, and pronouns give us clues about each person's perceptions of status. Pronouns are a subgroup of function words that often go unnoticed in the shadow of content words like nouns and verbs, but their use is linked to where the user's attention is focused. Research has shown that pronouns, specifically first person singular pronouns, signal the perceived relative social status of conversation partners in American English, and there is emerging research suggesting a similar pattern in ASL. This emerging research is my dissertation, currently in progress.

When an interaction is interpreted, the interpreter becomes an additional participant, like it or not. Understanding how pronouns perform status can help interpreters mitigate unintentionally misrepresenting how deaf and hearing consumers perceive one another, and thus how consumers co-construct their own social status relationships.

Educational Objectives:

1. Participants will be able to identify and analyze pronoun use in their own language (interpreted and direct communication)

2. Participants will be able to explain research linking pronoun use and social status

3. Participants will be able to design practice activities for reducing pronoun-related intrusions
Presenter Bio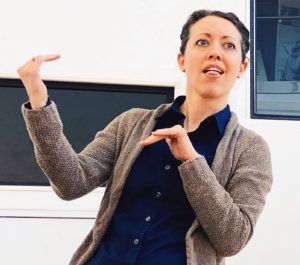 Kiva Bennett (NIC) is a Florida native, now living in Washington, DC. She holds an MA in linguistics from Gallaudet and is currently pursuing a PhD in linguistics, also at Gallaudet. Kiva likes to research and to teach. She periodically gets lost down the black hole of procrastination by means of investigation, trying to find ways to enhance her skills. Upon surfacing, she's been known to say, "Hey, I bet other interpreters would love to know this stuff too!" And a workshop is born.
Organizer