Mental Illness & Mental Health Day0.2 Professional StudiesYear Around Event (2023)
Time

Year Around Event (2023)
Cost
$20.00
Cancellation & Refund Policy:
ASLIS requests payment to be made in advance. We do not process refunds after activity is approved and payment is complete.
If you are unable to complete this study for any reason, please contact CEUsponsor@aslis.com. 
CEUs
0.2 Professional Studies
ASLIS is an Approved RID CMP Sponsor for Continuing Education Activities. This Professional Studies program is offered for a total of 0.2 CEUs at Little/None Content Knowledge Level.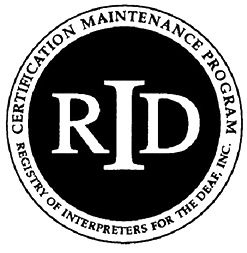 Event Details

Earn 0.2 CEUs by completing this Independent Study. You will be asked to self-analyze your personal stigmas on mental health, discuss a few common mental illnesses, learn about local resources in your area, and talk about self-care after completing a tough assignment. You will be required to write a 3-page minimum paper about those prompts.

Educational Objectives

1)      Define common mental illnesses to break the negative stigma of mental health.
2)      Dissect 3 common mental illnesses and how to be the best interpreter possible for consumers with those struggles.
3)      Assess how mental health will impact my interpreting work and consumer interactions – both in medical and non-medical settings.
4)      Self-analyze where my comfort zone is and how I can break from it when interpreting mental health related assignments.

Registered but didn't receive an emailed receipt? Check your junk/spam folder for an email from CEUsponsor@aslis.com
Organizer