Deaf Culture Through "What the Deaf?!" Podcast0.35 General Studies CEUsYear Around Event (2023) Category:Independent Study
Time

Year Around Event (2023)
Cost
$35.00
Cancellation & Refund Policy:
ASLIS requests payment to be made in advance. We do not process refunds after activity is approved and payment is complete.
If you are unable to complete this study for any reason, please contact CEUsponsor@aslis.com. 
CEUs
0.35 General Studies
ASLIS is an Approved RID CMP Sponsor for Continuing Education Activities. This General Studies program is offered for a total of 0.35 CEUs at Some Content Knowledge Level.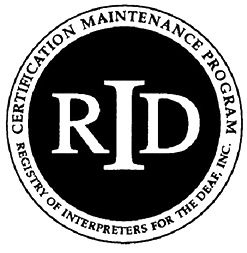 Event Details

Podcasts are very popular; however, podcasts are usually not Deaf-friendly. Well, "What the Deaf?!" podcast hosts Carly Weyers and Sarah Tubert are looking to change that with their Deaf-accessible podcast! Their podcast is entirely in ASL with voice interpreting, so it is accessible for both the signing and non-signing communities. Their podcast provides an unfiltered look inside the daily lives of two young Deaf women. They answer your questions and share their journeys of dating, college, working, and living in a hearing world, where their voices are in their hands!
For this activity, you will go to the "What the Deaf?!" podcast's website and watch/listen to season one of their podcast; ASLIS challenges you to watch the podcast with the voicing off (volume on mute). As you watch/listen to the podcast, record your thoughts, reactions, etc. Write a 2-page minimum paper (Times New Roman Font size 12) that provides a summary of each episode and what your reactions were to each episode. Be sure to include how watching/listening to this podcast has impacted you both in your personal life and your interpreting work.
Educational Objectives:
Immerse myself in the host's stories, answers, etc. to learn more about the Deaf community.
Compare the podcast's hosts' experiences as Deaf women to my own and analyze how they are both similar and different.
Identify ways I can incorporate what I learned from this podcast into both my personal life and interpreting work.
Organizer