Literary Exploration0.4 Professional Studies CEUsYear Around Event (2023)
Time

Year Around Event (2023)
Cost
$40
Cancellation & Refund Policy:
ASLIS requests payment to be made in advance. We do not process refunds after activity is approved and payment is complete.
If you are unable to complete this study for any reason, please contact CEUsponsor@aslis.com. 
CEUs
0.4 Professional Studies
ASLIS is an Approved RID CMP Sponsor for Continuing Education Activities. This General Studies program is offered for a total of 0.4 CEUs at Some Content Knowledge Level.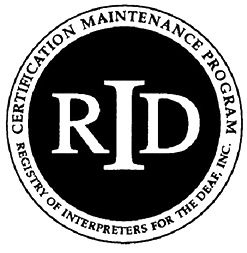 Event Details

RID has an impressive catalogue of books relating to the field of interpreting! Select one of the books available on their website: https://ridpress.org/collections/catalog. You will read that book and submit a reflect paper, answering the provided questions. You can complete this activity independently or you can form a book club to discuss the book with your colleagues (all members of book club will need to complete their own Independent Study).

Educational Objectives:

1) Dissect my strengths and areas to improve to decide which topic within the interpreting field I would like to study further.

2) List what I have learned about my chosen topic and how it will help me to further grow as an interpreter.

3) Reflect on what I learned about this topic can be applied to other topics within the field of interpreting.
Organizer