20jan6:00 pm8:00 pmInterpreting in Visual Vernacular0.2 Professional Study CEUs6:00 pm - 8:00 pm Virtual Workshop - Zoom
Time

(Wednesday) 6:00 pm - 8:00 pm
Location

Virtual Workshop - Zoom
CEUs
0.2 Professional Studies
ASLIS is an Approved RID CMP Sponsor for Continuing Education Activities. This Professional Studies program is offered for a total of 0.2 CEUs at Some Content Knowledge Level.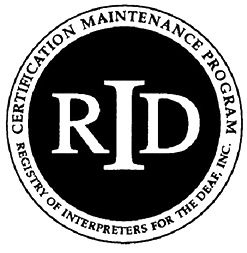 Event Details

Many times interpreters get stuck with how to interpret a certain word that they end up spelling it. Will the Deaf consumer understand? This workshop will allow them to comprehend the need to think beyond and outside of the box. The main goal is to improve their visual intelligence: think visual, be visual.

My presentation will focus on the history of Visual Vernacular, its prominent features (including facial expressions, gestures, classifiers), and will include a few brief hands-on activities to see the benefits of interpreting in Visual Vernacular or using some of its aspects.

Educational Objectives:

The participants will be able to:
 assess their interpreting skills by thinking outside of the box of how to interpret information.
examine the importance of becoming more visual in their interpreting.
analyze facial expressions more to match the tone of their signing.
develop an understanding on the history of Visual Vernacular.
Presenter Bio
Daniel Israilov notices every single thing. His eyes capture the smallest details and he learns to imitate with his own art. This is where Visual Vernacular comes in, for him.
Born in Kazakhstan, then moved to Israel at the age of nine. At dinner tables, he'd impersonate family members, cracking up jokes, and telling stories. At twenty-four, there were more platforms to express his art, and he did just that on his social media. The storytelling led him to his wife, whom he married in New York City.
The city that watered his artistic seeds. As he learned American Sign Language (ASL), he learned what he has been doing all along, is called Visual Vernacular (VV). He continued to immerse himself in telling stories in VV and doing stand up comedy. He was rich in knowledge: knowing four languages and understanding several cultures – it was time for him to deliver.
A year later, he performed at colleges, non-profit organizations, and poetry clubs with his VV stories. He competed at ASL Elements with various talented VV artists. He taught ASL at Sign Language Center, teaching students how to navigate the language.
With the modality of his fingers, his facial expressions and his body movements, he could tell endless stories.
Organizer