Audism in the Deaf Community0.2 Professional Study CEUsYear Around Event (2021)
Time

Year Around Event (2021)
Cost
$20.00
Cancellation & Refund Policy:
ASLIS requests payment to be made in advance. We do not process refunds after activity is approved and payment is complete.
If you are unable to complete this study for any reason, please contact CEUsponsor@aslis.com. 
CEUs
0.2 Professional Studies
ASLIS is an Approved RID CMP Sponsor for Continuing Education Activities. This Professional Studies program is offered for a total of 0.2 CEUs at Some Content Knowledge Level.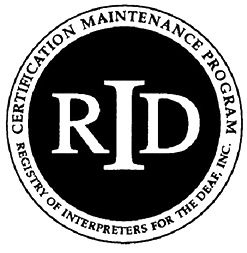 Event Details

We value our interpreters taking the time to unpack and reflect on audism. We hope you find the time you invest in this Independent Study to be beneficial to your growth and working within the community. International Week of the Deaf is celebrated during the last full week of September; International Day of the Deaf is on the last Sunday of the week. This Independent Study provides an opportunity to explore audism and other oppressions that the Deaf community experiences. You will be required to write a 3-page minimum paper. Questions provided.

Educational Objectives:

1. Dissect the impacts that authentic representation of Deaf culture in the media has on the Deaf community.

2. List resources I can use to immerse myself in Deaf culture to combat audism.

3. Self-monitor my actions, whether intentional or unintentional, that can be oppressive to the Deaf community.
Organizer