Americans with Disabilities Act0.1 Professional Study CEUsYear Around Event (2023)
Time

Year Around Event (2023)
Cost
$10.00
Cancellation & Refund Policy:
ASLIS requests payment to be made in advance. We do not process refunds after activity is approved and payment is complete.
If you are unable to complete this study for any reason, please contact CEUsponsor@aslis.com. 
CEUs
0.1 Professional Studies
ASLIS is an Approved RID CMP Sponsor for Continuing Education Activities. This Professional Studies program is offered for a total of 0.1 CEUs at Some Content Knowledge Level.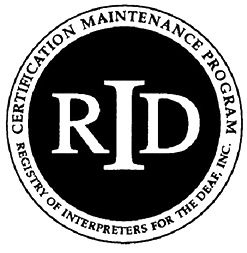 Event Details

The Americans with Disabilities Act of 1990 (ADA) is a civil rights law that prohibits discrimination based on disability. ASL interpreting services for the Deaf, DeafBlind, and hard-of-hearing communities fall under this law. In the same way that public buildings must be wheelchair accessible, public information and services must be accessible for the Deaf community, which is where ASL interpreters come in. You will watch multiple short videos, read one article, and then write a 1-page minimum paper. Questions are provided.

Educational Objectives:

1) Explain the ADA and how it impacts my role as an interpreter.

2) Analyze actions I can do as the interpreter to ensure effective communication for the Deaf community.

3) Distinguish what types of direct pay assignments are okay to accept and what types violate the ADA.
Organizer